QUALIFIED & EXPERIENCED
SYDNEY SHOPFITTERS
Liteco Projects are one of the leading licenced builders & shopfitters in Sydney, focussing on commercial fitouts and interior design. With more than 15 years of experience in the construction industry, we provide a full-service, one-stop fitout shop for our clients. After completing more than 300 hospitality, retail and office fitouts, we have built an enviable reputation for our hard work, attention to detail and flawless communication.
We mainly operate in the Sydney Metro areas, but we have also completed projects in Melbourne, Brisbane and Perth for our international clients. Five years ago we opened our own in-house joinery factory in St. Peters. This ensures that that our clients always benefit from high end, unique custom cabinetry, furniture and display cabinets. We also have two further divisions: Liteco Studio that focuses on interior design and refurbishments, and Liteco Hospitality that focuses on kitchen equipment.
Customer satisfaction is one of our main priorities and communication is key. Many of our repeat customers value our honesty, reliability and the quality of our services. We value every one of our clients and always deliver on time and within budget. In fact, we pride ourselves on giving our clients a successful outcome – quality commercial shop fitouts that match their budgets.
If you are hoping to reopen your restaurant soon, it might be wise to speak to an interior projects specialist about a new and updated hospitality fitout.
That's because COVID is highly transmissible, particularly in enclosed spaces, and is likely to be a legitimate concern to both your staff and customers.
At Liteco, we know exactly what needs to be done to help make your restaurant as safe as possible in a post COVID world. So given that we need to live with the virus for the foreseeable future, here are a few of the strategies you should consider for your updated hospitality fitout.
1. CHECK RESTRICTIONS
Check your state or territory's COVID restrictions for the maximum number of customers allowed in your restaurant at one time.
2. RETHINK THE FLOOR PLAN
Redesign the floor so that it can accommodate social distancing between tables and allow customers to safely walk through the restaurant to the bar, toilets, and so on.
3. GET CREATIVE WITH HANDLING
Reduce transmission rates by using disposable paper menus, chalk boards or digital menus (the latter can be accessed using a QR code on each table).
4. ENCOURAGE PRE-ORDERS
Encourage people to pre-order before arriving at the restaurant to reduce the amount of time they are in an enclosed space.
5. CREATE OUTDOOR SPACES
Maximise any outdoor spaces to accommodate al fresco dining and install outdoor heaters if necessary.
6. REWORK FURNISHINGS
Replace furnishings and surfaces that are time consuming to clean with low-maintenance options that can be quickly sanitised and disinfected.
During your hospitality fitout, however, you need to ensure that the decor and ambiance of your restaurant are not jeopardised. That's because reducing the number of tables and seats, combined with installing furnishings and surfaces that can be easily sanitised may give your restaurant a slightly clinical appearance. It takes a highly skilled team of interior projects specialists to balance these different aspects and create a design that still represents your brand, appeals to your customers and keeps everyone safe.
Speak to our expert team about restaurant fitouts and design. Contact us on 02 8068 1755
Read More
With the rising cost of commercial real estate, office refurbishments in the post COVID world will help operators scale back their requirements and boost employee confidence in one fail swoop.
That's because with the continuation of remote working, flexi spaces will become more popular with operators, reducing the costs of leases and office fitouts.
Employees will also be happier with their work-life balance, spending a few days working at home and a few days using the flexi spaces in their place of employment.
Here are three more refurbishments that will help keep your employees safe and comfortable in the office, post COVID.
Office refurbishments will include separated workstations
Open plan work spaces have never really been popular with employees, but can be adapted, post COVID, to create more separation and privacy.
New office refurbishments might involve installing privacy booths so that employees can take phone calls without disrupting their colleagues.
Refurbishments can also involve installing panels between socially distanced workstations creating a physical separation, promoting a healthier environment even with a fully vaccinated workforce.
Hygiene & cleanliness as a prime factor in office fitouts
COVID has made us all more aware of hygiene in the workplace, so expect office fitouts to include more options for hand washing, as well as soft furnishings and flooring that can withstand a high level of cleaning. Air conditioning will also be a big focus with the installation of UV light air purifiers gaining more momentum.
High-tech refurbishments promote a contactless office
Social distancing and hand washing can be taken up a level by including aspects of a contactless office in your refurbishments.
This design strategy focuses on reducing the number of surfaces, appliances and equipment that employees need to touch.
For example, how many people touch the elevator buttons in your building? What about the kettle, fridge and other appliances in the lunch room? The printer, fax or scanner? Voice activation or smartphone apps can be used to activate an amazing array of functions in the workspace, reducing contact and making communal areas safer.
If you are interested in Office Fitouts – please contact us on 02 8068 1755
Read More

What is a cloud kitchen?
Cloud kitchens take restaurants to a whole new place.
A cloud kitchen is a rentable kitchen in a shared space which allow restaurateurs to prepare food for delivery.
Picture a large space with numerous stations (mini-restaurants) of stainless steel prep tables, hood vents, stoves, ovens, and sinks, each with its own orders coming in direct from customers.
In short, cloud kitchens are a branch of a restaurant that offers delivery services only.
They are also referred to as 'ghost kitchens', 'dark kitchens' or even 'virtual kitchens' and thanks to lower real estate and operational costs as well as a new customer base for eateries to explore, they are making growth far more accessible.

Why cloud kitchens?
Cloud kitchens allow chefs to prepare food without having to worry about maintaining the dine-in portion of a brick-and-mortar location.
They are fast becoming a hot trend in the food-delivery arena and it is easy to see why:
With no brick-and-mortar restaurant, there are lower upfront and operational costs
These kitchens are usually in densely populated areas allowing for more customers & quicker turnaround
No fear of outgrowing your restaurant space as cloud kitchens are flexible and scalable
Cloud kitchens are fully functioning commercial kitchen spaces, so you can hit the ground running with no set up costs
Cloud Kitchen examples:
There are many examples of cloud kitchens across the world from CloudKitchens in San Francisco to Karma Kitchens in London to WeKitchens in Sydney.

What is the future of cloud kitchens?
Whilst many restaurants have suffered due to Covid, but cloud kitchens have been able to weather the Covid-19 storm and as consumers increasingly lean in to getting take away, the cloud-kitchen market will likely get even hotter.
In the current environment and with the continued uncertainty of the COVID-19 pandemic, cloud kitchens or food and beverages outlets backed by a cloud kitchen network have a better chance of survival and are likely the future of the food industry.
And then, into the future restaurants across the world will reappear, and cloud kitchens will also remain – both will survive.
Read More
What is Pantone's Colour of the Year for 2021?
Pantone's colour for 2021 is grey with yellow for highlighting. To be exact, the colours are Pantone 17-5104 Ultimate Gray + Pantone 13-0647 Illuminating.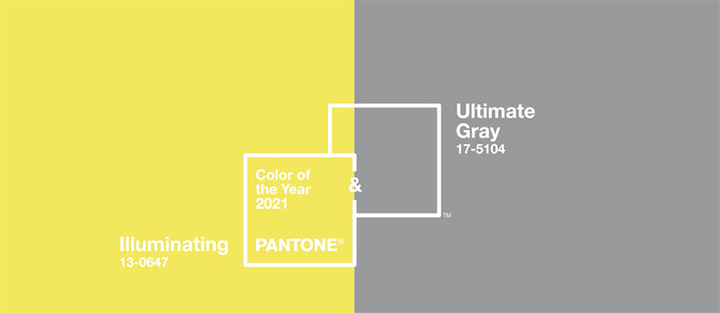 These 2 colours, say Pantone express:
"A story of color that encapsulates deeper feelings of thoughtfulness with the promise of something sunny and friendly".
The colours are therefore a message for now, when we need something warm and optimistic, and we need to feel like everything is going to get better.

How is Pantone's Colour of the Year Chosen:
For over 20 years, Pantone's Colour of the Year has influenced product development & purchasing decisions across many industries from fashion, to home furnishings, as well as industrial design, product packaging & graphic design.
Each year, the Pantone Colour of the Year is selected after careful consideration & a broad analysis of trends. Each year the team at Pantone Colour Institute comb the world looking for new colour influences from new technologies, materials, textures, and effects that impact colour, relevant social media platforms and even upcoming sporting events that capture worldwide attention.
How to use these Colours in Interior Design:
So how will interior designers use this optimistic colour palette?
The idea is to use the grey as the neutral backdrop with the yellow as the contrasting, highlighting colour.
Houzz has plenty of examples of this: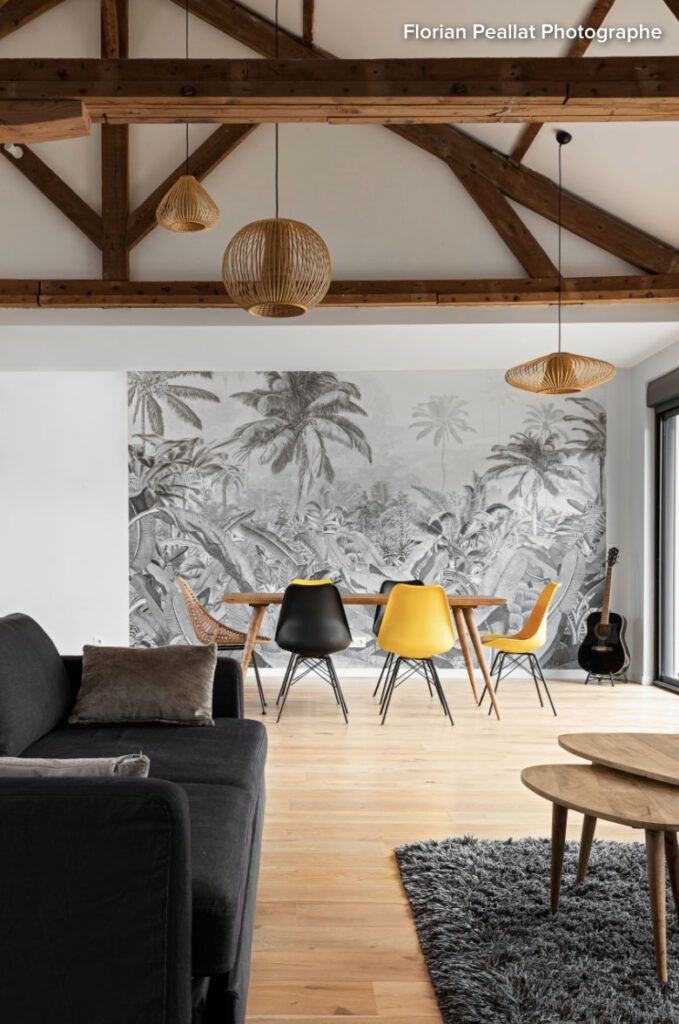 An example of using this could be a grey exterior paint colour which would be coupled with a  "hint" of yellow at the front door. Another example would be a grey backdrop with a "pop" of yellow such as with a furniture piece, or cabinets or even towels.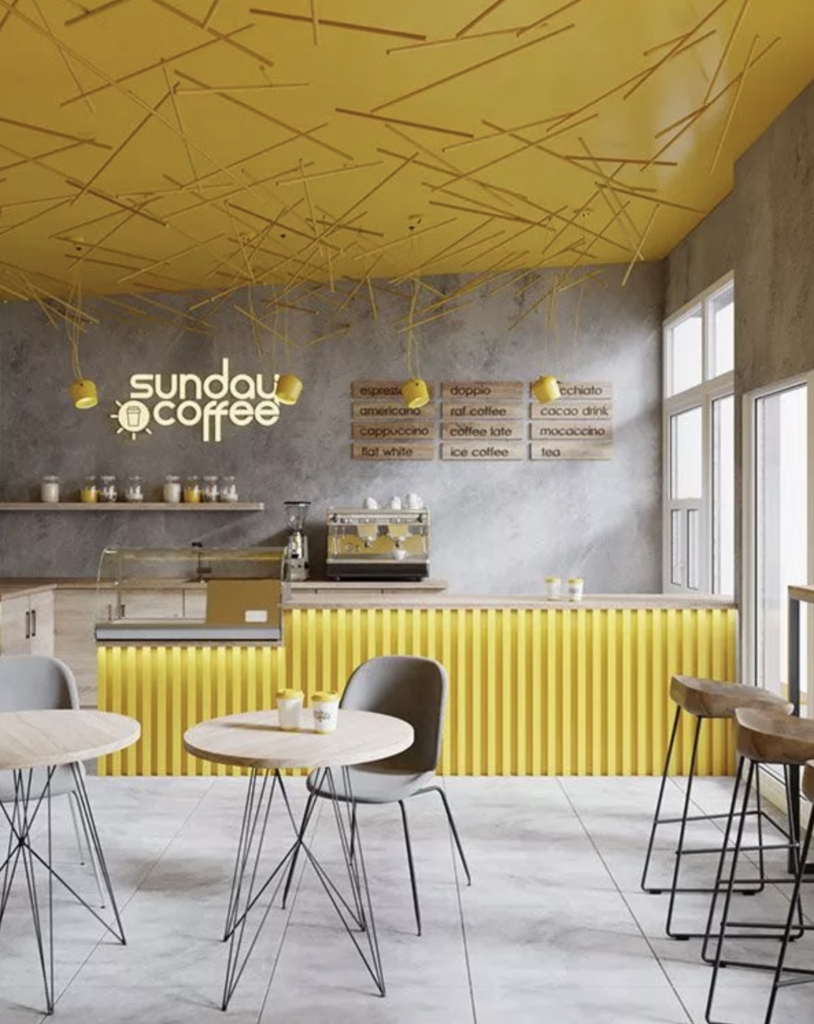 Sunday Coffee cafe in Lviv, Ukraine, by Vymir Design Studio. Photo via behance.net
For a professional restaurant fitout in Sydney (regardless of location!) call the team at Liteco Projects, Sydney's leading hospitality fitout specialists.
Call us on 1300 000 338 or send us an email enquiry
Read More
What Our Clients Are Saying About Us
© Copyright 2021 Liteco Project